We've probably all seen the recent articles regarding certain manufacturers and their stance on Google Analytics integration, among other things. I'm not here to give an opinion on which OEM or digital program is best or worst in regards to transparency. What I do want to offer is a fairly candid, 4 step process to make your current marketing efforts more transparent.
Step 1 – Integrate a 3rd Party Analytics Platform
As with anything in both life or in business, it's always a good idea to get a second opinion on big decisions. We all know that your potential customers are probably spending a lot more time on your website than they will be in showroom. In that respect, wouldn't you want a second opinion on how your website is performing?
If you are analyzing your website and traffic performance on solely the stats provided by your marketing vendor's analytics program, you may be missing out on some key insights (or at least some data validation). Utilizing a 3rd party analytics tool like Google Analytics or Omniture can help you do just that. I have preferred using a 3rd party analytics programs because 3rd party tools have zero stake in the game. The numbers can't be fudged and you can't hide certain statistics, everything is collected.
Setting up a Google Analytics account is pretty quick and painless and can save you a lot of time and headaches.
Step 2 – Link AdWords with Google Analytics
If you are currently running a Google AdWords campaign, chances are 20 – 40% of your web traffic comes from this source. If you are also utilizing Google Analytics, but haven't linked your AdWords account, then you are missing out a lot of opportunity and insight on your PPC performance.
Hint – a quick way to figure this out is by reviewing the AdWords section under Acquisition in Google Analytics. If the data says "(not set)", your account is not linked.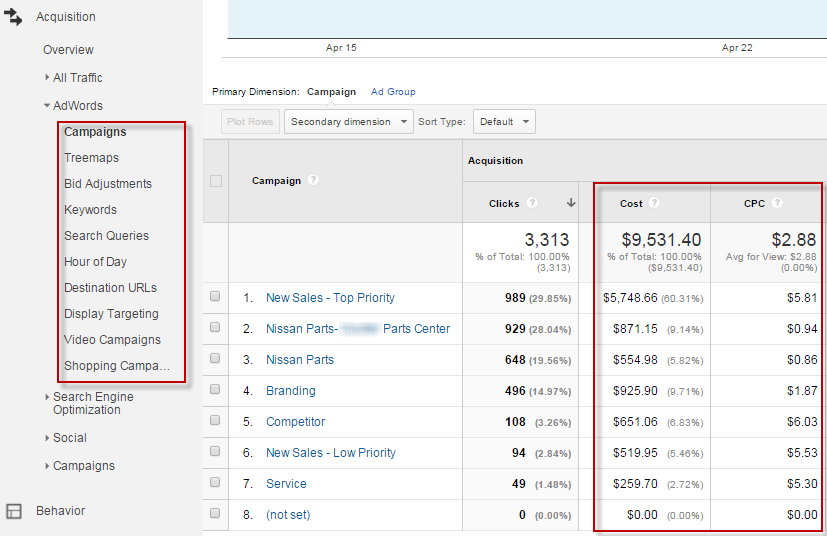 By linking the accounts together, you'll be able to take advantage of all of the reporting metrics Google Analytics offers in regards to AdWords data, such as actual search queries and display targets. Furthermore, cost and CPC data will begin populating. Linking the two accounts is very easy if you have the right access levels.
Step 3 – Add Parameters to Track Referral Traffic
So you've linked up your AdWords account and you're importing all of your correct data. Great! But what about all the other digital marketing programs you are running? If you are having issues with getting accurate referral traffic data from a particular advertiser, they may not have their destination URLs tagged in the proper way. In layman's terms, there is a disconnect between traffic being sent from the advertiser and the analytics program incorporating the right metrics.
Let's use a common example. Let's say you are running display advertising through your local news channel. They are putting your image ads on their websites, they are reporting back to you that you are receiving a ton of great clicks, but you are not seeing this traffic in analytics. If you have a Google Analytics, you can add UTM parameters to the end of your URLs that you provide to the advertiser.
The parameters are then sent to your Google Analytics account, so you can identify the URLs that are most effective in attracting users to your content. Once again, a fairly straightforward process and takes only a few minutes.
Step 4 – Define Your "Goals"
What one person may call a "conversion" or a "goal" in analytics, may greatly differ from the next guy down the street. When analyzing your conversion rate effectiveness, we must ALWAYS first ask ourselves – how are we defining a conversion?
For example, nearly all of our clients at Stream are only measuring a form submission or a phone call as a conversion. Other vendors may not follow this system. Some may include directions page visits or VDP views as a goal. It's entirely up to you as the business owner on what you want to consider to be a conversion.
After all, it is your analytics account! I highly recommend defining your goal metrics with your marketing team to make sure everyone is on the same page. It's also the best way to track ROI across your marketing channels.
All the best,
Brock
Brock Clauser is the Director of Paid Search at Stream Companies, a Philadelphia area advertising agency.
{{cta('dd226037-b54e-4a50-9c85-80ef02348431')}}