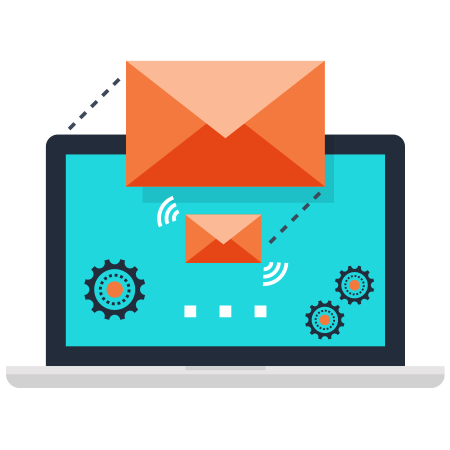 Email Outreach with a Human Touch
Email marketing is the single most effective program for customer retention. Intimate and immediate, it lets you connect with your audience and spread your message faster than ever. When done right, it can deliver a huge return on investment—one your business can't afford to ignore.
So, what makes a good email—and a strong email marketing campaign? Like other advertising avenues, a hearty message, a dash of design, and a well-baked strategy are key. The difference is, we do this time and again without some overused template.
The team at Stream Companies can help you chart a path to the email opens, clicks, and engagement you're after! This is outreach with a human touch, building up your business in more ways than one.
Targeted Emails for Every Device
We're living in the modern age—and modern means smart devices. More than 50% of consumers have reported using a smartphone or tablet to access email. We want your emails to shimmer and shine on whatever screen your viewers use to see them.
Some people think it's enough to just buy a list of emails and send them out to as many people as possible. However, the best email marketing strategy favors quality over quantity. Using our precision data, we ensure you only send emails to the right people, leading to the maximum possible open and conversion rates.
We'll use responsive designs and coding to help make that happen. When your email designs instantly adapt to any device, you can put the key points of your message in the most visually effective areas—no pinch or zoom required to see it all.
Of course, your emails won't shift shapes on their own. We thoroughly test every email campaign in the most popular combinations of email clients and mobile devices. From desktop to smartphone, Outlook to Gmail, we'll make sure your emails display in the most artful and effective way!
Tracking Results for Continuous Improvement
When it comes to results, our email developers and strategists are never quite satisfied. We're always striving to do better, to spot and shape trends before anyone else does.
We spend much of our time researching to stay up to date on the latest industry news and techniques. It's how we stay ahead of outdated content management systems and "do-it-yourself" templated email service providers that constantly update and change how their platforms operate.
Our sophisticated tools can track the results of your email campaign in the way that is most relevant to you. From sales to sign-ups, forwards to social shares, see the data you've been missing and let it guide improvement along the way!
Why Email Marketing with Stream Companies?
Effective email marketing needs to captivate and compel. That subject line gives you 60 characters or fewer to make your first impression—and it better radiate personality!
We'll help reveal your best side in the most natural way. Choice words, deft design, and crazy-effective calls to action will show your customers who you are. Then, when you see who's opening your email, how long they read it, and what they clicked on next, you'll see another side of your customer, too.
With offices in Malvern, Philadelphia, and Pittsburgh, PA; Long Beach, CA; and Ft. Lauderdale, FL; we're ready to help you hit all the right notes in your email marketing campaign. Contact the team at Stream Companies today!
Contact Us
Interested? Drop Us a Line!