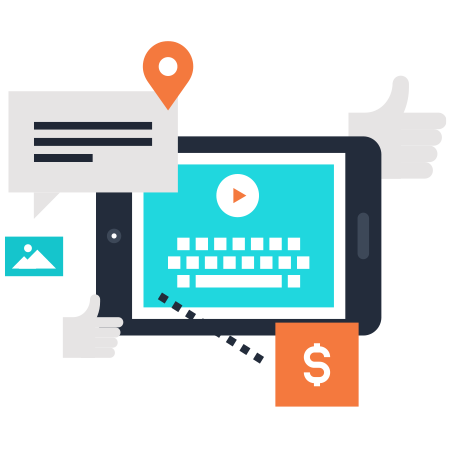 Learn to Speak the Buyer's Language
There are roughly 7.8 billion people in the world right now, and nearly 4 billion of those people are on social media.
People today use social media for all sorts of reasons. It's no longer just to stay connected with friends and family. They also share news, learn new life hacks, and buy and sell goods.
The secret to social media success isn't just for a business to be there. It's for a business to get in front of the right people, all while speaking their language. Stream Companies is here to help you do that.
What it Means to be Social: Process
Facebook, Twitter, Instagram and LinkedIn—these are accounts that every business needs to have. Any shopper or business (big or small) can start an account. But how should you manage your account to help your brand stick out from others?
This is where a data-driven social media strategy thrives. At Stream, our process is built on more than a decade of user information from leading social media platforms. By harvesting user purchasing behaviors, occupation, educational background, and much more, we can help you identify the people most likely to buy.
Beyond all else, we'll help you speak this shopper's language, so they know that yours is the brand they can trust.
Capture: A Virtual Window into Your Business
With Capture by fullthrottle.ai, an entire company's staff can upload customer photos, inventory pictures, team member profiles, and more to curate a humanized view of their business and a virtual window into the brick and mortar. With these unique capabilities and so many more, businesses can build a one-of-a-kind truly social community.
A Dream Team to
Achieve Dream Results
Social media is all about people: Understanding them, communicating with them. It makes sense that thoughtful, visionary people are at the heart of our strategy, too.

The Stream social media experts have been all over. They've performed case studies with Facebook, have spoken at national conferences, and always keep their noses to the grindstone, researching the latest and greatest social trends.

Teamwork makes the dream work, and our team is fully integrated. Social works in tandem with SEO, paid search, and media buyers to achieve the most potent results possible.
Your Goals are Our Mission
Social media success looks a little different for each business. Some are looking for more form submissions while others just want more general foot traffic in their store.
There's no one-size-fits-all Stream social mission. We want to hear your goals and vision, and we'll build our strategy entirely around it.
With tools like Google Analytics on our side, we can track successes and opportunities to specific social campaigns, tweaking and improving them based on real-time data.
Multifaceted Social Management
In an effort to create the most comprehensive social media strategy possible, our experts are well-versed in both organic social management and paid social ads. Their targeting always hits the mark, reaching the most relevant audiences with the right messaging when it counts.
Elevate Your Social Media Strategy
Social media success is about much more than being present. It's about being vocal and understanding the wants and needs of shoppers.
Through crafty application and management, Stream Companies has been improving social strategies for brands all across the nation. Our Malvern, Philadelphia, and Pittsburgh, PA, offices as well as our Long Beach, CA, and Ft. Lauderdale, FL, offices make it easy.
Want to start speaking your shoppers' language? Contact Stream Companies to learn more about our social services today.
Contact Us
Interested? Drop Us a Line!