2019 is a big year for digital marketing. Yes, there are constant changes, with businesses needing to reevaluate their lead generation methods. However, it's this year that's showing trends shift in a dramatic way.
From voice searches to being "position zero" on Google, here are the 2019 digital marketing trends that are designed to drive leads for your business.
1. Featured Snippets
When people type a question into Google, they often want an answer straight away. So, to make things as easy as possible, Google answers those inquiries in the form of a feature snippet.
This blurb, often referred to as "position zero," contains a summarized answer to a user request, along with a page title and link to where the answer originated. It's found at the top of a search engine results page (SERP) with the information pulled from one of the organic listings on the first page of search results.
The snippet is usually written in paragraph form. However, it can also be a list, table, or video. No matter what shape it takes, this trend is steadily on the rise.
In 2019, you can expect to see more searches that contain a featured snippet. Plus, Google plans to experiment with new formats for snippets, so it can stay ahead of the competition to deliver the best answers to users' questions in the fastest way possible.
Example of a Featured Snippet
Let's say you can't remember the last time you had an oil change done on your car, but the vehicle isn't performing as well as normal. You may decide to look up signs that you need an oil change.
By typing this into Google, you could get your question answered right away, like from the example below: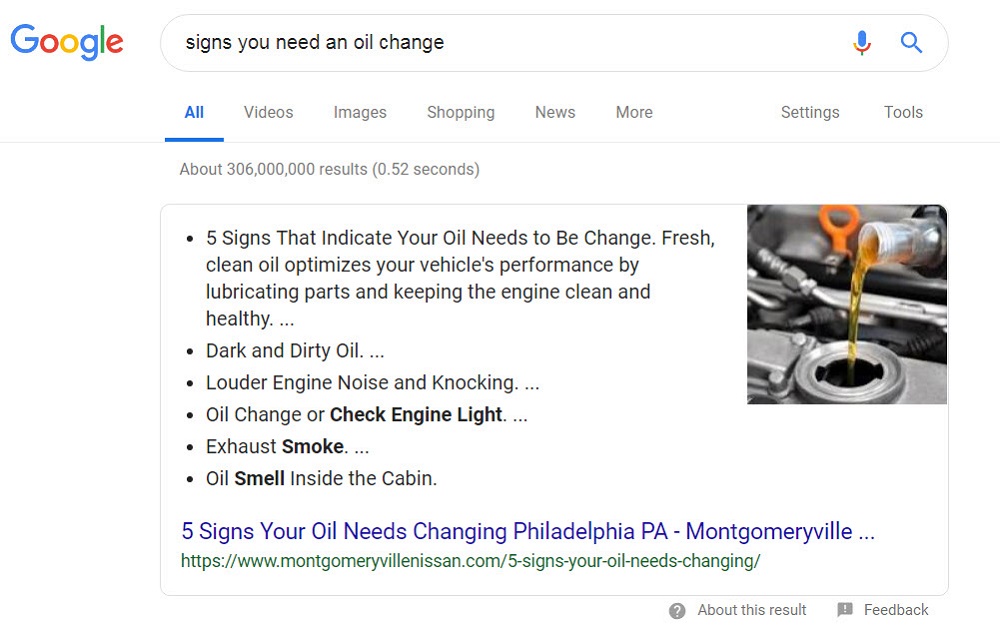 Then, if you want even more information on the topic, you simply click the link to keep reading!
2. On-SERP SEO
Because Google is answering questions right on the results page through those featured snippets, the number of no-click searches is on the rise. This is when people do a Google search but never actually click on a link to a website. Plus, while this trend is rising, it's doing more so for mobile device users.
As a result of this recent development, digital marketers are working to expand their SEO efforts in 2019. A big thing they're now doing is On-SERP SEO, which focuses on the featured snippets with the "goal of dominating position zero," or outranking the top organic results.
While many strategists think that this will decrease organic traffic website, the opposite is actually the case—especially when you properly optimize your content for position zero.
According to a study by HubSpot, when a business's content ranked for position zero, it produced a 114% in click through rates (CTRs), even in instances when they already held the #1 organic position.
Furthermore, a big way you can get consumers to click through to your website is by taking up as much real estate of Page 1 of Google as possible. By increasing your brand awareness, you'll increase CTR and generate more organic traffic.
3. Voice Search Optimization
In 2018, there was a huge growth in the sale of voice-activated smart devices like Amazon Echo and Google Home. These new items, along with Siri® and Cortana, give users tons of options for using voice search to find answers to their inquiries.
According to a study from BrightLocal, over 50 percent of consumers have used voice search to find local business information in the past year. Therefore, businesses looking to get noticed in 2019 should make sure their basic information is correct, which includes:
Business name
Address
Phone number
But there are actually so many more ways that brands can use voice search technology to engage with their audiences. One of them is user intent, which tells you why someone asked a question in the first place.
For example, if someone used voice search for a new Honda, it's probably because they're looking to buy one in their area. Search engines can understand this and take it into account. But that's why you'll want to consider user intent when creating your content, so that you can enhance relevance of your pages to certain search queries.
4. Page-Level Targeting
As part of your marketing strategy, you may have certain pages that appeal to a broad audience across segments. Then, you might have other pages that are for more specific audiences.
It's important to take advantage of targeting audiences through more than just campaigns. You can also do this through the use of psychographics.
These differ from demographics, which tell you known facts about a consumer, such as age, gender, or marital status. Psychographics, on the other hand, include details that may not be so easily discoverable, like:
Personality
Values
Interests
Lifestyles
There are many ways to get this kind of information, including customer surveys and Google Analytics. Once you learn more about your readers, you can refine your buyer personas and then create content that appeals to those individuals on a deeper level.
5. Programmatic Advertising
Programmatic advertising is when you use software to purchase digital ads, thereby targeting more specific audiences. It's used to make the ad buying system more efficient by removing humans from the process whenever possible (like when they get sick or need to sleep).
But this technology isn't replacing people completely. It's simply taking over tasks like handling ad tags. You'll still need to optimize campaigns and plan strategies to guarantee real-time impressions.
Agencies will use a demand side platform to decide which impressions to buy, while publishers use a supply side platform to sell ad space to brands. These platforms then match up in real time to amplify your business's message, or to reach a different audience beyond your continuous campaign.
Since this automation is so quick, you get higher conversions and lower acquisition costs. Plus, it's changing the face of digital advertising so rapidly that by 2020, it's projected that almost 90% of digital display ads in the United States will be programmatic.
Start Driving Leads for Your Business Today
As you can see, there are many digital marketing trends happening in 2019 that can help drive leads for your business. If you're wanting to be in the know, then let the marketing experts at Stream Companies help.
Don't wait. Contact our team today!