How do you summarize an incredible week of collaboration, inspiration, and industry growth in less than one novel? You simply cannot, but the team at Stream Companies has provided a recap for those who were unfortunate enough to miss this year's event.
What's the conference called? Inbound 2018
Where was it held? Boston, MA
When did it occur? September 4-7, 2018
Who hosts it? HubSpot
Inbound 2018 exceeded this year's expectations once again. From insightful keynote speakers like Deepak Chopra and Shonda Rhimes, to successful session hosts like Sarah Bird (CEO of Moz), the attendees got a full-circle experience of tactical and ethical stimulation. What were we able to take away, from a holistic standpoint? Well, a customer-focused strategy and a mentality of positive opportunity will offer the success you've been striving for—so make it happen.
HubSpot Product Releases
The week started off with Partner Day, where HubSpot Agency Partners got to see some new releases HubSpot has been working on. These include (but are not limited to):
In-Platform Video: Create videos within the HubSpot platform
Service Hub: This feature adds to your customer experience and complements the Sales and Marketing Hubs
Snippet Modules: Use a code provided by the platform to customize your content to rank for Snippets
Google Search Console Integration: Have all your data available in one location in HubSpot
Search Engine Optimization Takeaways
The rest of the week was a fun and informative compilation of industry leaders speaking about their expertise. Inbound 2018 featured an abundance of search engine optimization breakout sessions that highlighted strategy, tactical elements, and numerous case studies of how some agencies are breaking the boundaries of traditional SEO.
Here's what we gathered from the week:
Old content is useless for your site: Recycle, repurpose, or merge old blog content with new pages on your site. Not only are you cluttering your sitemap, but online visitors (especially mobile users) want to read one article—not 10 on the same topic. This is tedious work and should be done strategically, so we recommend leaving this up to an agency.
Videos are king: The majority of our days are spent watching online videos. Use this knowledge to your advantage and create more videos for your audience.
Keywords are dying: With semantic search becoming more prominent, Google is starting to understand the relation between similar keywords. Focus less on exact-match keywords and create meaningful content for your visitors instead.
Your new homepage is off-page: Utilize featured snippets, Google Quick Answers, title tags, meta descriptions, and even your Google My Business listing to your advantage. According to Moz, 57.1 percent of mobile searches result in no-clicks. This means people are finding what they want right off the Google SERP. Provide the right details on your website to earn that "Rank 0" snippet spot, or entice users to choose you from the information you can provide that pulls directly onto the SERPs.
Conversion Rate Optimization Takeaways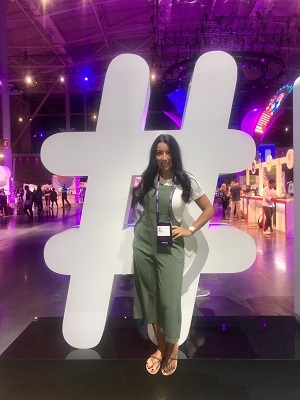 Some of our favorite breakout sessions happened to be about conversion rate optimization, or "CRO." This industry is relatively newer, breaking ground within the last two to three years or so. Overall, here's what we learned:
There are minimal "best practices" in CRO: Different industries have different customers. What works for one website may not work for another. Test everything out.
Do more qualitative research: Take surveys of and ask questions to your customers. Oftentimes, quantitative data can be misleading when developing test ideas. Find out from your customers what's lacking on your website.
Cross–reference with third-party tools: Take advantage of the third-party tools you're using on your site. What are people asking in your chat support tool? Does your call-tracking platform have transcripts you can read, to see what your visitors could not find out on their own from your website?
Maintaining Leadership in the Digital World
The conference included all trends related to inbound marketing, but the previous takeaways resonated with us the most. One thing Stream Companies consistently works toward is a more integrated, optimized marketing solution for our customers. Attending Inbound 2018 was a great way to absorb ideas and skills to boost our clients' successes. If you're interested in our expert services, or just want to drop a line to say hello, contact us today!