Streamlined Automotive PPC That Delivers Retail Traffic
You may have heard search engine marketing referred to by many different names: pay-per-click, SEM, or even paid search. It's vital to your digital strategy and a way to reach more shoppers.
At Stream Companies, our automotive paid search strategy connects car shoppers who are already in market with your dealership via spend on highly relevant keywords. With a smart strategy and high-touch approach, you can help your dealer capture demand from shoppers searching for inventory or service.
What Is
Automotive Paid Search?
In the world of internet marketing, pay-per-click automotive ads appear at the top of search results pages for everyone to see. These ads, when clicked, lead shoppers straight to your digital showroom—your dealership website.
The concept is simple, but reality can be trickier. Paid search in the automotive industry involves intense competition around keywords and crowded markets. You want a digitally savvy team that can deliver real and measurable results for clients—and that's what we do best.
To cover your bases while reaching the maximum number of interested customers, our paid search specialists focus on five important areas:
Search Advertising
Curated and organized via Google AdWords, this method leapfrogs organic rankings to put your information front and center. This means your business can drive more local search traffic and you can position yourself as a leading authority without devoting weeks or months to SEO nurturing.
Of course, the best search advertising strategy works hand in hand with SEO to affect the best possible return on your investment.  By doing so, you're able to cover both your short-term and long-term investments, creating a sustainable strategy that truly leaves no stone unturned.
Display Advertising
Do you want the power to advertise across all Google partner websites? If so, display ads are a proven path.
Instead of just targeting people who are actively searching for your products and services, you can target specific types of potential customers. This includes choosing people from a geographic location, people who recently visited a competitor's site, and even displaying ads on relevant industry websites.  
In doing so, you'll cast a somewhat wider net and may draw in customers you would've otherwise missed.
Social Advertising
Build your presence within a highly shareable environment. Social media allows you to reach people on their personal newsfeeds and within group hangouts. Flexible and easy to personalize, social advertising can help you direct people to your landing page, industry content, and even lead generation forms.
Google Shopping Adverts
Shopping adverts allow your customers to virtually window shop before taking the next step in the marketing funnel. Appearing inside a show carousel at the top of the SERP, this form of advertisement supplies both a visual of your product and its listed price.
This helps you highlight your product before you have to pay for the click. The effect is that every click has a much higher chance of converting since the customer sees the product and already knows the price.
Remarketing
Have you ever been on a company's website and then a day later see an ad for that exact company (or even the specific product or service) pop up somewhere else? It's neither coincidence nor is it magic–it's all the work of remarketing.
Remarketing takes note of customers who demonstrate a genuine interest in at least one of your products or services. It then sends them a series of personalized ads, entices them back to your website, and hopefully moves them one step down the marketing funnel. 
What Do We Mean When We Say "Digitally Savvy"?
Think of it like this: You're the manager of a popular band. As manager, it's your job to effectively promote their upcoming tour. Do you go with any run of the mill promotion company, or one that knows how your fans think, talk, and know where they seek you out?
That's what we mean by being savvy. It's not enough to simply understand the technology; you also need a team who knows how to successfully target and drive your biggest fans to you. In a noisy digital world, that requires both experience and laser focus. The same can be said about advertising for automotive dealerships.
You need experts at every stage in the game who know how to position your ads for optimal success. Working in perfect harmony, our internet marketing experts remove unnecessary barriers to deliver automotive paid search marketing that's truly integrated.
Many of our competitors have 100+ accounts per specialist, but we know that just won't cut it. With no more than 27 to 35 accounts per specialist, we can give your PPC campaigns some more T.L.C.! You need a high-touch, highly managed service to compete in the big leagues.
How Does Paid Search Work?
When you type the phrase "car dealer near me" into Google's search bar, a long list of results quickly populates. This automated list, or SERP (Search Engine Results Page), can be broken down into two categories: organic and paid results.
Organic results, AKA Search Engine Optimization or "SEO," ranks websites based on things like relevancy and popularity to determine which websites best fit your query. To stay atop the ranking list requires both time and a skilled SEO expert at the helm.
On the other hand, Pay-Per-Click or "PPC" is like buying a front-row ticket to the big show. As its name suggests, you the advertiser pay a tiny fee each time your ad is clicked. A properly managed paid search campaign maximizes every worthwhile avenue to significantly minimize monetary waste. Not a single penny should be misused!
When you type a query into Google, you'll often notice the leading result has a little green box with the word "Ad" next to it. This lets you know a company has created a PPC campaign to boost their page to the 1st, 2nd or 3rd position.
The Top 3 PPC Spots Garner the Lion's Share of SERP Clicks
According to HubSpot1, the top 3 paid advertising spots receive 46% of clicks on the SERP.1 This is especially helpful if you're trying to draw traffic from a crowded marketplace.
Remember our rock band metaphor? Imagine having the ability to put your name at the top of the marquee night after night. That's the power you gain when you advertise on search engines like Google. It doesn't matter if you're a small or large dealership, PPC is a proven way to position and expand your edge over local competitors. 
Unlike SEO, PPC ads aren't affected by things like algorithm updates, which can sometimes negatively alter your ranking position. This makes automotive paid search marketing an effective tool for both shorter and longer campaigns.
Can My Company Survive on PPC Alone?
PPC is fantastic for getting quick results. It's like a sprinter running a 100-yard dash. By comparison, SEO works more like a marathon runner; : slower to start but able to sustain a long and enduring campaign.
In this way, PPC is the perfect tool for gaining maximum exposure and conversions in a brief period of time. PPC also has the power to amplify the online content you create and use it in ad extensions. Whitepapers, blog posts, event sign-ups, and product reviews can all benefit from paid search marketing.
If your SEO ranking starts to lag, PPC can deliver a quick shot of adrenaline to get you back on top. If an SEO result fails to rank well enough, PPC can place a bid to show an ad for that specific keyword.
You Can Make $3 for Every $1.60 You Spend on Google AdWords
From hours spent using social media to researching and buying products, your customers devote a lot of time to being online. Google AdWords helps make sure your business is front and center when a customer types a product or service you offer into Google's search bar.   
Think about it: Your advertisement can appear the very moment someone decides to take that next step in the marketing process. Whether your goal is to drive website visits, generate sales calls or increase foot traffic to your brick and mortar location, a targeted paid search campaign can help make it happen.
In fact, according to Power Traffik2, the average company makes $3 in revenue for every $1.60 they spend on Google AdWords.2 That's a nice return on investment for very little effort. Furthermore, PPC ads posted through Google AdWords have been proven to boost brand awareness by 80%3. This is the case even when ad blockers are in place.
Keyword Specificity is The Name of The Game
Success in all paid search campaigns depends on choosing the right keywords. Through our partnership with BrightEdge, the leading search engine optimization company, we have the best of the best when it comes to keyword research tools. It's one way we help you stay ahead of the competition.
We allocate keywords based on where the user is in the shopping process, no matter if they're researching or ready to buy. Whether they're searching "Honda SUVs" or "Honda dealerships near me," our tiered bidding will help you cover the ground you need to drive more relevant traffic to your site.
It's just as important to target specific locations. With relevant keywords and locations, we can help you drive incremental new business from shoppers at every level of the marketing funnel. Want to zero in on potential customers in a specific town? With BrightEdge you can!
Optimizing Your Car Dealer Marketing On A Dime
Our special technology helps us reduce and eliminate non-qualified leads while delivering your ads to the people who'll benefit from seeing it. This requires skilled professionals using a platform that's capable of changing directions without slowing down.
Our PPC specialists are trained to have the precision of a surgeon with the flexibility of an Olympic gymnast. It's all about reaching your specific goals while staying ahead of the curve.
Finally, thanks to the massive audience of Google AdWords, you have the ability to access and influence a massive amount of digital traffic every single day. No stone goes unturned, so no quality lead goes untouched.   
Creating PPC Ads That Deliver Results
So, we have your keywords fully researched and picked out. The next step is crafting PPC copy that sizzles. It's not enough to throw a handful of keywords against the SERP wall and see what sticks. Once you're in front of the customer, you better have something that's going to make them move.
Like the perfect sales pitch, PPC copy should always be short, sweet, and with no baloney. Essentially, your copy should aim to be somewhere along the lines of "Hi there! Care to take a test drive? Click the link to buckle up today!"
To break things down into even simpler terms, all the best PPC copy accomplishes the following:
Shines a light on your company, product or service
Inspires excitement
Delivers accurate, timely information
Includes a clear call to action
How Do You Effectively Advertise On Search Engines?
We determined your goals and set a monthly budget. We craft the perfect paid search ad. The final step is for our PPC specialists to start bidding for the top position.
Do you know what the secret is to capturing the perfect ad position? It all comes down to knowing the SERP's sweet spot. We want to spend just enough to beat the competitor's offer. That requires having a full understanding of the local market and never losing sight of your overall goal.
If it means sacrificing the top position for the second or third, so be it! The game isn't about outspending your competitors; it's about reaching and connecting with your customers where and when they need you.
In Step with A Changing World
Thanks to its short-term solutions, Stream can structure your internet marketing to react to specific circumstances and events.
For example, in response to COVID-19, our PPC specialists were able to adjust copy to include phrases like "buy online" and "online shop." Not only that, but they could add an extra compassionate touch befitting life-changing circumstances.
No matter the situation, we can adapt to an ever-changing automotive landscape. It all comes down to managing a team of experts with your needs in mind.
The Better the Google AdWords Quality Score, the Better the Price
According to Google, a quality score "is an estimate of the quality of your ads, keywords, and landing pages. Higher quality ads can lead to lower prices and better ad positions".4 Think about it: The higher the quality of your PPC ad, the more Google is willing to push it to the top of the search page. 
As an extra reward, ads with a high -quality score also tend to cost less and receive higher bidding power. The work Stream does on the front end can help maximize your campaign budget while shortening the time it takes for your ad to reach the top position. 
This aggregated score draws upon 10 unique qualities, including:
Click-through rates
Relevance of the text ad
Relevance of each keyword to its ad group
Landing page quality
Overall Google AdWords account performance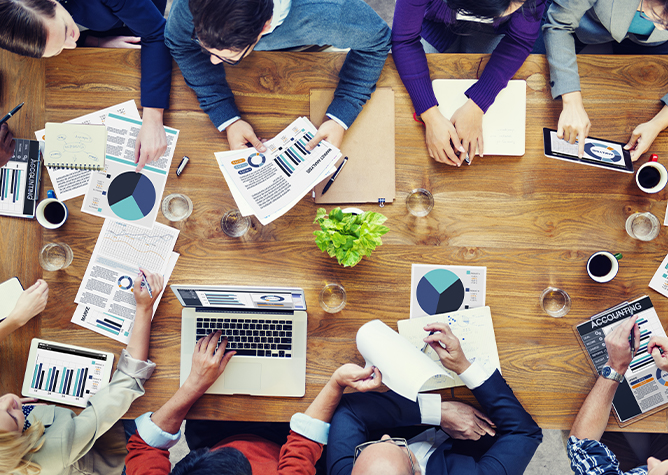 Always Testing, Always Transparent
Why do you want Stream's experts running your paid search campaign? Simply put, paid search strategy isn't something you can set up and then forget about.
To see results at the best possible cost, you can't afford to ignore your paid search campaign. Our PPC specialists will be in your campaign every day to analyze results, adjust bids, and craft a message that meets your customers where they are.
Our PPC works hand in hand with search engine optimization (SEO). We understand what our SEO specialists are ranking and optimizing for and allocate paid search dollars accordingly. The left hand always knows what the right hand is doing, and that makes for stronger campaigns.
Can your SEO help reach a key demographic? Paid Search can make a beeline through the digital crowd and position you in the right spot. As your marketplace evolves, our specialists will track important trends to make sure your advertising stays both agile and relevant.
We always keep you in the loop, too. Some dealerships are investing tens of thousands a month on ads they have no transparency on. We give you access to your Google Ads account from day one—you own it! You can see the work being done and where your dollars are being spent.
How Do We Measure Your Success?
From the very start, it's a smart idea to embrace the long game when mapping out a paid search campaign. Despite its hard-charging, position-jockeying feats, meaningful growth tends to be gradual and requires having someone on your side who can make quick adjustments. That's where Stream's paid search specialists come in handy!
Of course, successful internet marketing campaigns start by defining clear and attainable benchmarks. It's important to remember that when beginning this process, your goals might look totally different from your competitors', and that's okay! The important thing is to understand where your online advertising currently stands and where you want it to go.
To boil it down, we define and measure success in four distinct areas: new traffic creation, lead/sale conversions, SERP rank, and brand awareness.
While each area deserves its own attention, picking one or two as your focus will help better define what works and pinpoint areas where action can be taken. In terms of the day-to-day groundwork, our specialists concentrate on two important aspects:
Clicks
The initial-draw clicks, or the more important click-through-rate (CTR), is the metric that measures how many times your ad was clicked by a potential customer. A high CTR positively influences your AdWords Quality Score.
It's important to remember that 1,000 clicks don't necessarily equate to 1,000 visitors. While the likelihood of one person clicking your ad 1,000 times is small, one hundred people clicking your ad two or three times over the period of a week is worth taking into account. You shouldn't lose steam when facing this reality because a person who clicks multiple times is often a quality lead and much more likely to move down the marketing funnel.
Conversions
Once you draw their attention, the next thing you want is for your visitors to take action. This can mean completing a submission form, calling, or contacting your business in some other way.
These actions make up what we call your ad's conversion rate. This metric shows the percentage of website or app visitors who complete an action versus the total number of visitors.
At the end of the day, this metric is what we care about most. Conversions determine whether your goals are being achieved or adjustments need to be made.
How Stream Evaluates Key Performance Indicators (KPI)
Your goals are defined, the ads are posted, and the data is starting to roll in like a steady stream (exactly like our name!). At this point, it's time to take a close look at your campaign's overall effectiveness.
How is your click-through-rate versus your total conversions? What's driving digital traffic, and what could benefit from a decisive tweak or boost? If you're an automotive dealership, your primary KPI reporting should focus on call from ads, mobile click-to-calls, and form submissions. Real world examples include:
The number of potential customers who call to schedule a test drive
The number of potential customers who fill out a pre-approval form
The number of potential customers who contact your service center about an oil change promo
A Powerful Paid Search Campaign Can Be Yours Today!
Paid search is all about driving more qualified leads. While organic search results take time to see, your automotive PPC ads will bring immediate traffic to your website.
These ads target the consumers most likely to be interested in your brand. It's the perfect way to drive more conversions and help you target local consumers ready to shop. You'll incrementally drive highly valuable new business at the same time!
When you're ready to shift your automotive paid search campaign into overdrive, see what the Stream team can do for you!
Contact us today to speak with our team. We look forward to serving you!
1 https://blog.hubspot.com/marketing/tabid/6307/bid/1514/paid-search-vs-organic-search.aspx
3https://cleverclicksdigital.com/blog/best-ppc-stats-trends-2018/
4 https://support.google.com/google-ads/answer/140351?hl=en
Contact Us
Interested? Drop Us a Line!